Our Fleet
Limos & Party Buses
We offer vehicles of all kinds. Regardless of if you're in need of a limousine in Atlantic City or you are involved in an event that requires a larger mode of transportation, we've got your back. We love to talk about our vehicles because we believe and know that we offer the best of the best. It really doesn't matter whether you are looking for something to accommodate a smaller group or a large one, we can provide exactly what you need. And keep in mind that depending on how many people you will have for your event, you can always rent two of our vehicles. But one thing we can promise you is that all of our vehicles are well maintained. We have certified mechanics on staff who regularly inspect and maintain each one of our amazing vehicles. And in terms of the interior, don't worry, our professional detailers will have everything looking absolutely like new. And we have to tell you about the phenomenal features we have installed for you and your group to play with. One step inside and you are going to be giddy with happiness when you see granite top bar areas with built-in coolers of ice for your favorite libations. Not far away you will see high definition televisions with DVD capabilities. Throw in some exotic wraparound leather seating, a dance floor with a dancing pole, a premium sound system with subwoofers and LED mood lighting. You are going to have a very difficult time coming to grips with the fact that you are actually in a moving vehicle. When you do something like this, you want to do it right and that means partnering with our company to make your outing the very best it can be. Contact us soon and we would love to talk to you about possibilities.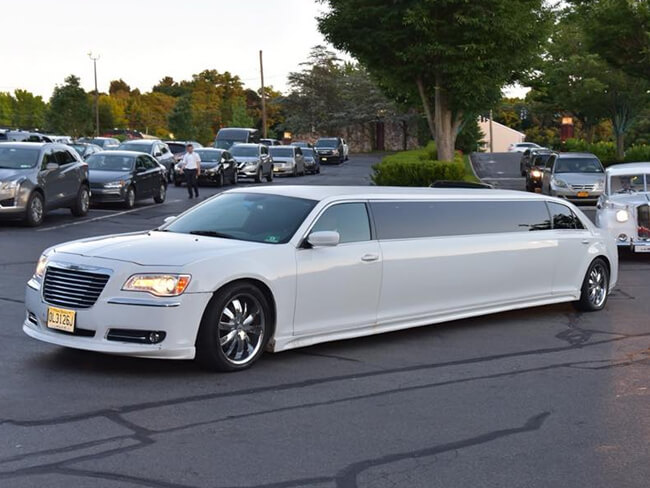 Excitement is the name of the game with this Chrysler 300 limo. Consider this limo if you want to turn heads when you arrive at your destination.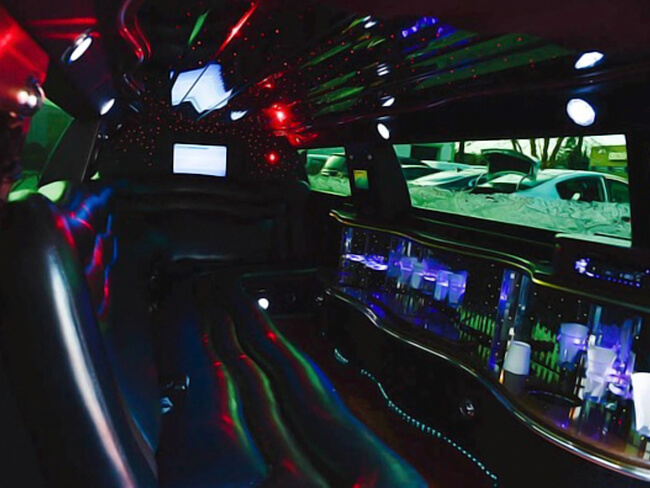 10 Passengers
The exterior of all of our limos are supreme, but the interior of this limo is notch and a fantastic choice for your night out, bachelor party, or any event!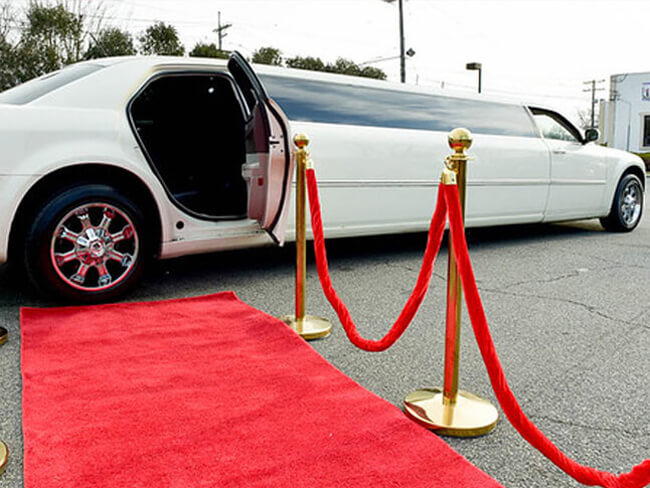 Sleek exterior
This limousine is decked out with all of the latest and greatest electronics and lights. Not only that we also have custom interiors built for all vehicles!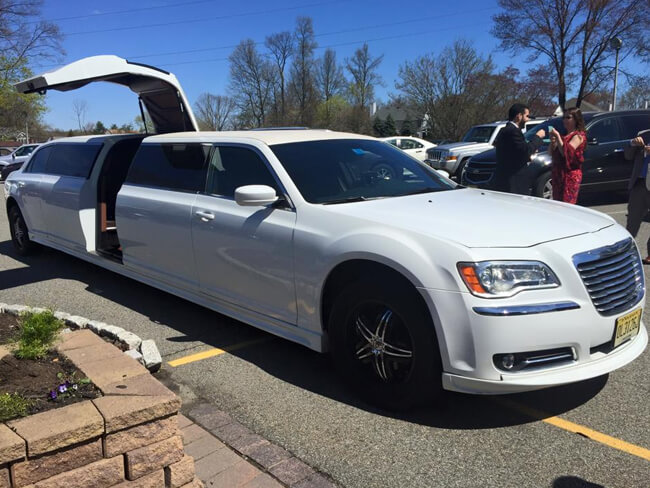 Chrysler 300
Here is another Chrysler 300 limousine option, this one for up to 12 passengers!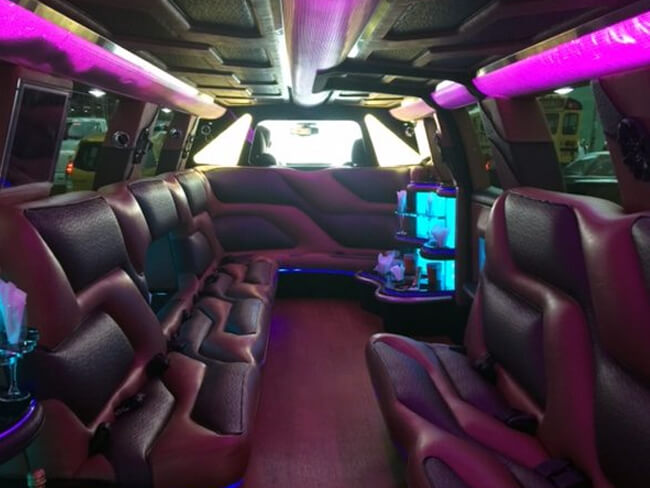 12 Passengers
This limousine has gorgeous leather seating and a back-lit beverage bar for your drinks.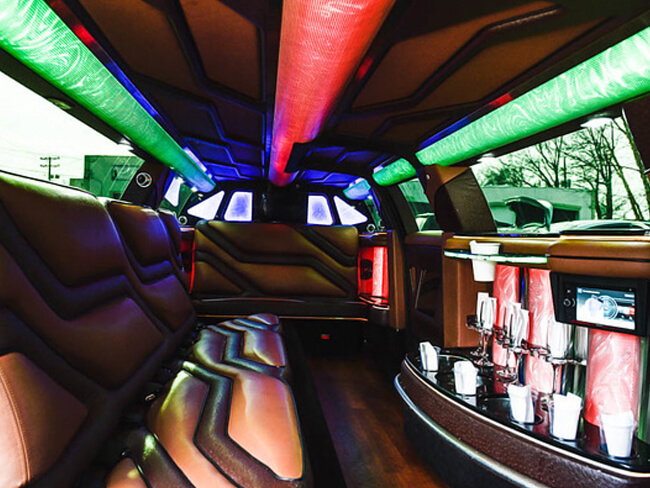 Plush interior
This limo has gorgeous wood floors and vibrant lighting throughout the entire interior.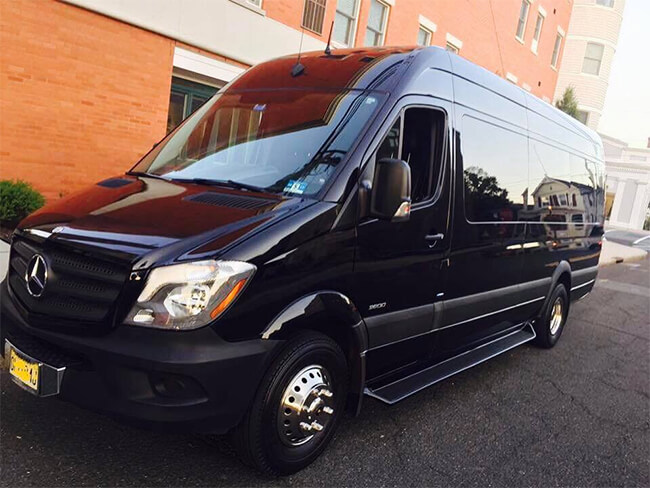 Mercedes Sprinter
If you're looking for a luxurious limo van, this Mercedes Sprinter is a great choice and it's sure to blow you away!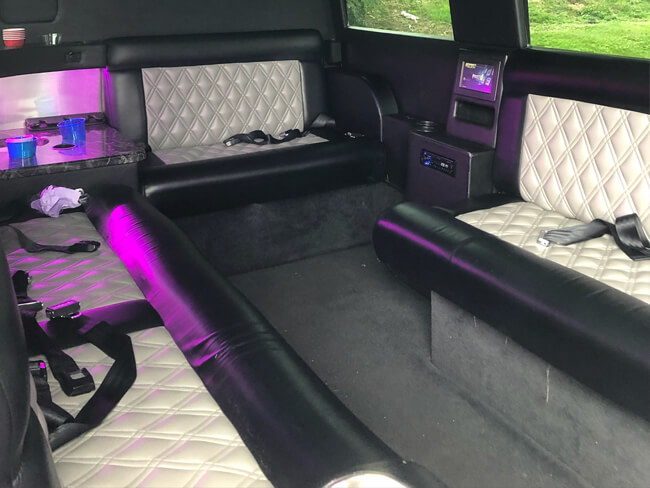 12 Passengers
This Mercedes van has a fully customized limousine interior with leather upholstered seats, color-changing lights, and more.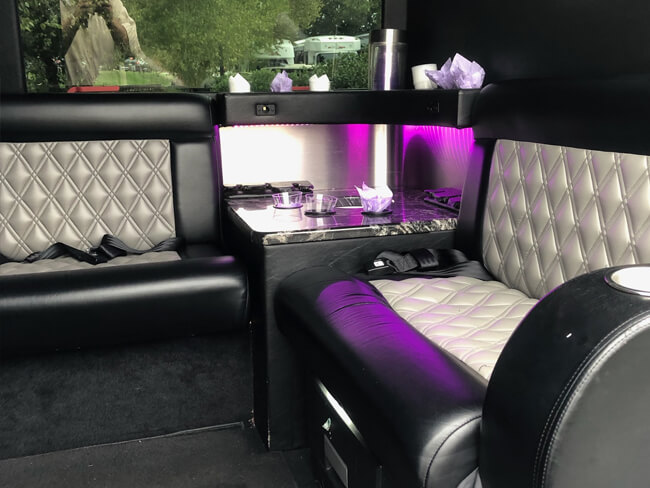 Leather Seats
Looking for a drink? Stock the cooler and enjoy your favorite beverages as you party and travel across Atlantic City, New Jersey!
Mercedes Sprinter
Lover our 12 passenger Sprinter van but need more room? This 15 passenger option is what you need!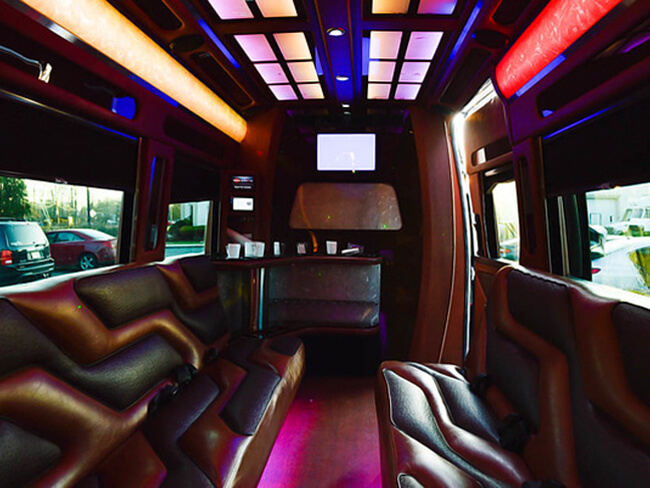 15 Passengers
Of course you can expect an extravagant interior with leather seats, wood floors, vibrant lights, and more.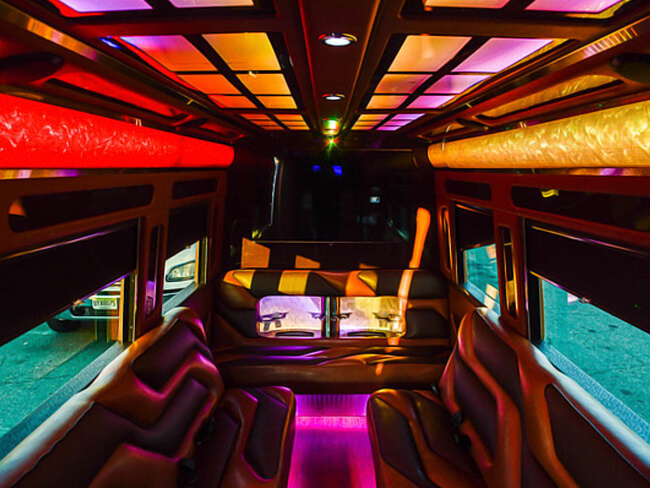 TV screen
This van has a TV and a DVD player, an amazing stereo system, CD player, and coolers. It's got it all!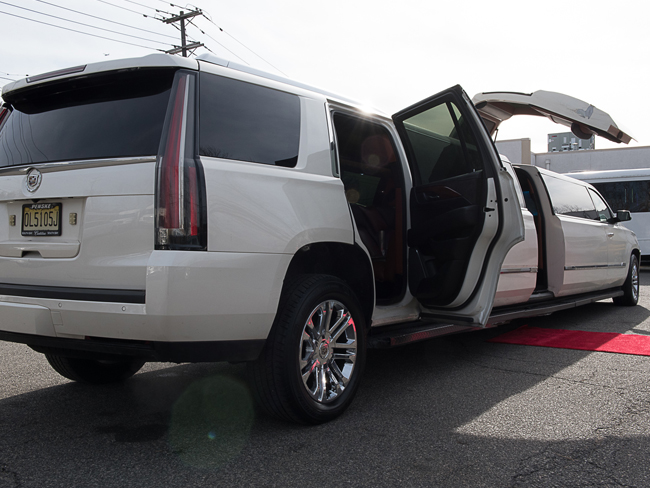 Cadillac Escalade
Our jet door Cadillac Escalade limousine is a supreme limo choice for anyone who wants a stylish limousine.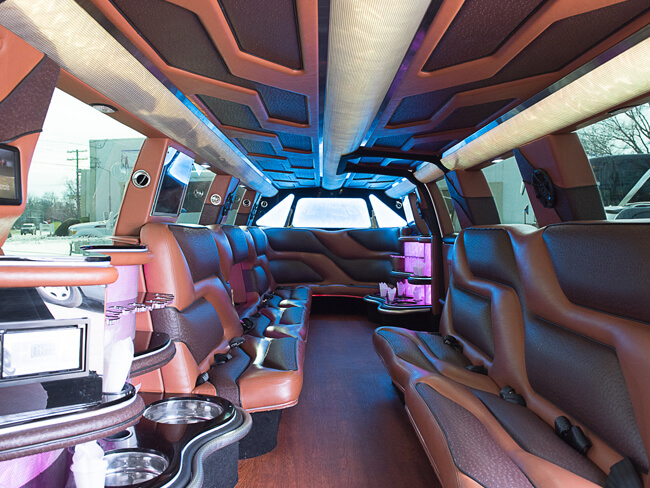 20 Passengers
This limo's interior is custom designed with vibrant lighting effects, beverage bars, TV, DVD, CD player, and more.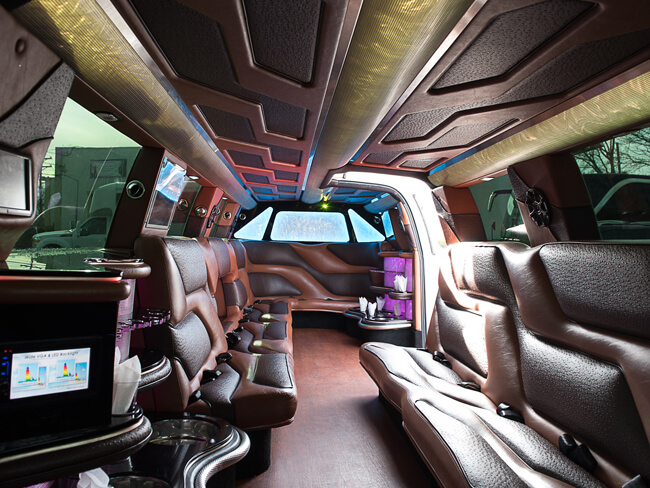 Jet Doors
This limo has a premier Bluetooth capable sound system that will make your favorite movies and music sound amazing!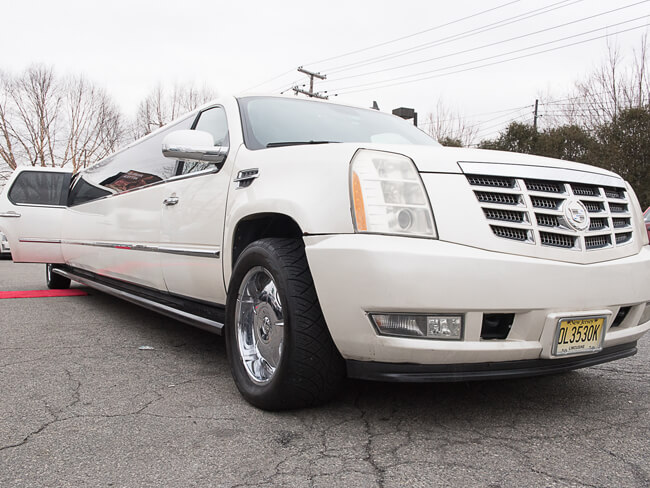 Cadillac Escalade
Here we have another beautiful Cadillac Escalade for up to 20 passengers.
20 Passengers
This limo has a unique interior with supple leather seats and a reflective ceiling.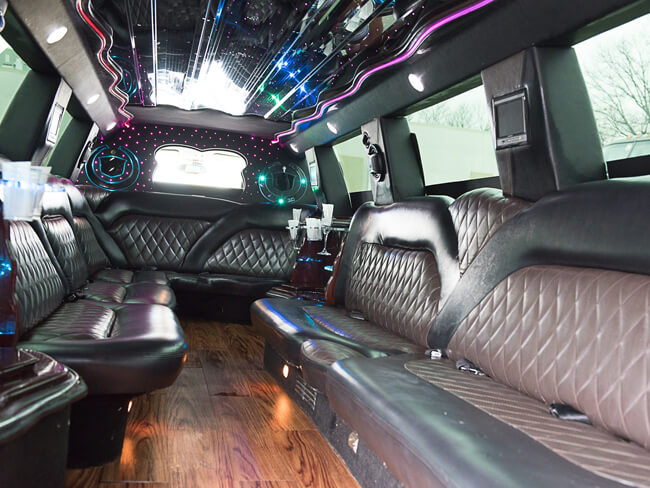 Fiber Optics
You'll love the features on this limo, including color-changing fiber optic lights!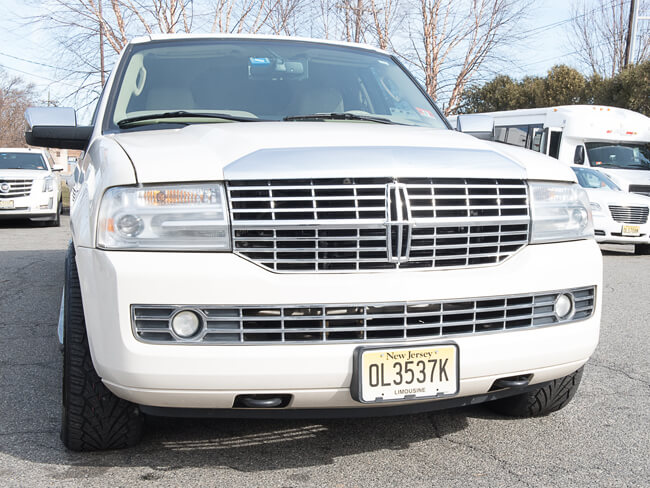 Lincoln Navigator
No matter what you've got planned, you'll adore this Lincoln Navigator limousine for up to 20 passengers.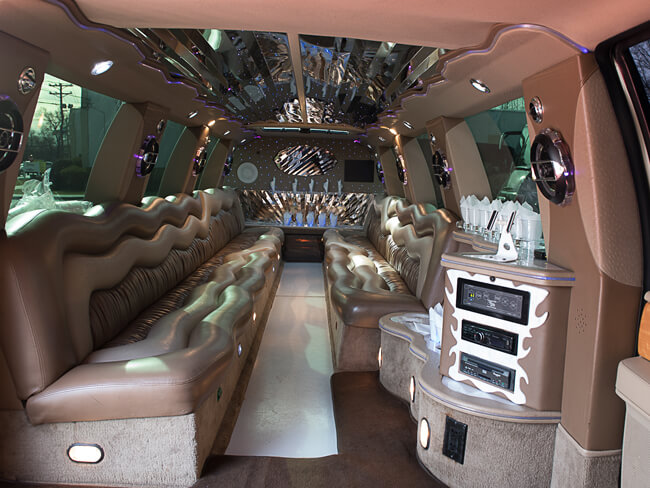 20 Passengers
The interior of this limousine offers sleek leather seating, a beverage bar, TV screens and a DVD player.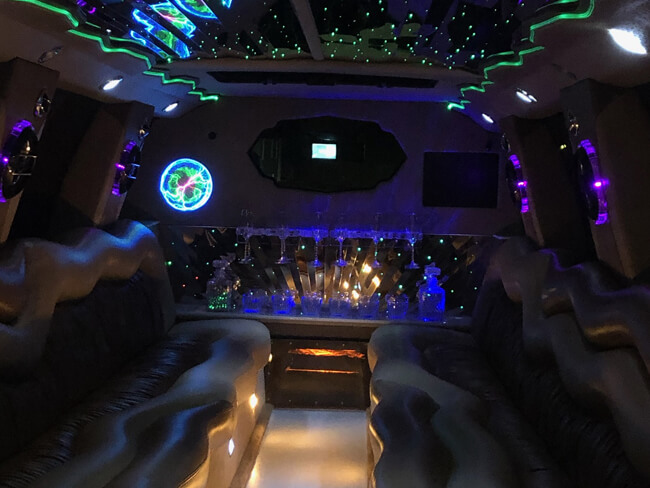 Booming audio
This limo has an outstanding sound system, a CD player, iPod hookup, and colorful LED lighting.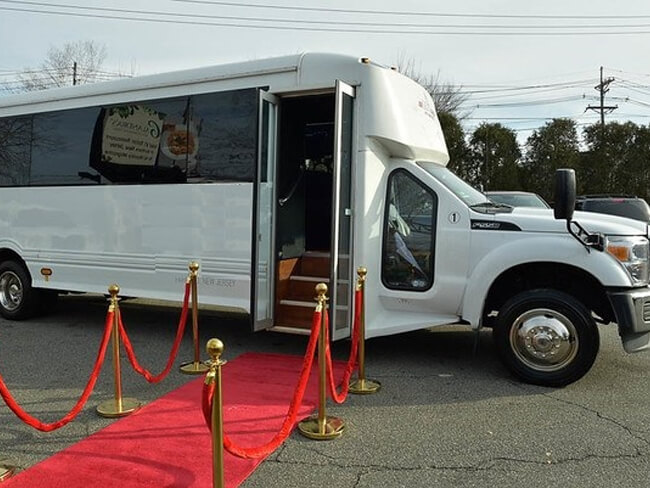 Limo Bus
If you need more room, check out our amazing fleet of Atlantic City limousine buses, beginning with this 25 passenger bus.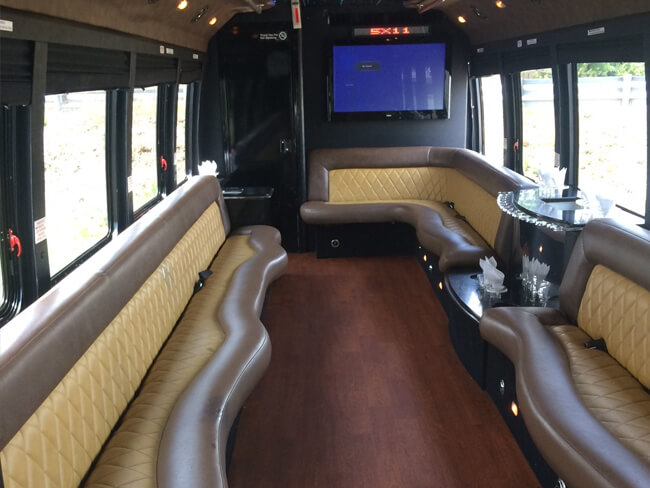 25 Passengers
This bus has custom wood floors, two-tone leather seats, colorful lights, a large TV, a DVD player, CD player, and booming stereo.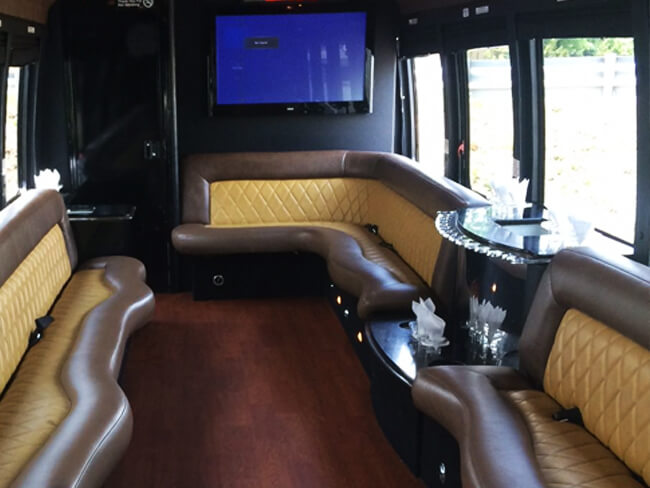 Coolers
Ready to kick the party up a notch? It's BYOB, but we'll make sure the coolers are stocked with ice to keep them chilled!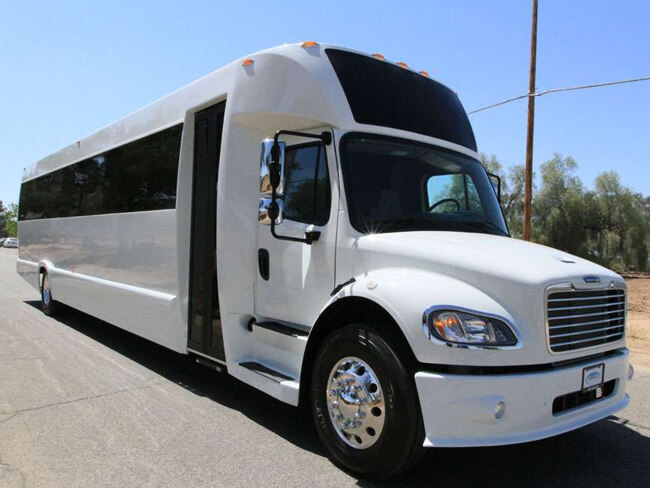 Limo Bus
Next up in size is this lavish party bus with seats for up to 28 passengers! This bus has everything you need for a great time.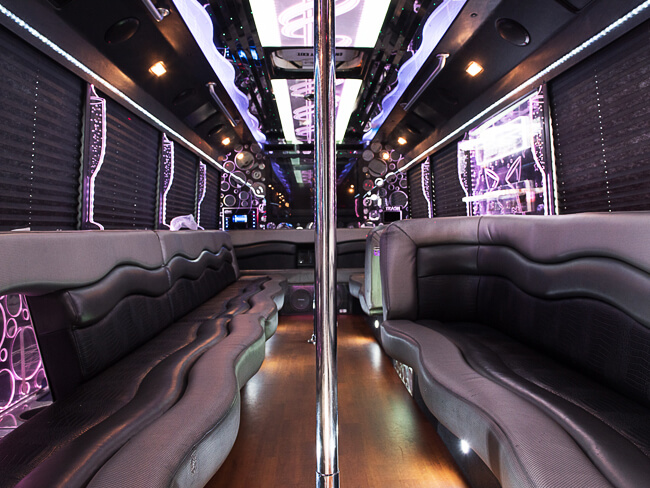 28 Passengers
This bus has beautiful two-tone leather upholstered seats, wood floors, two dance poles, a premium stereo, and privacy shades.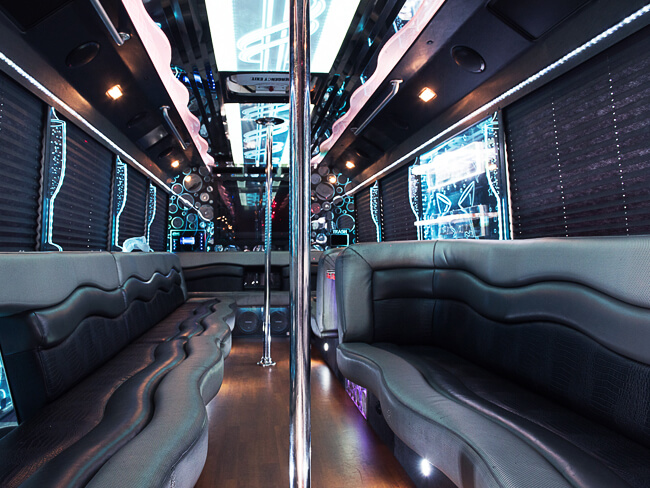 Leather Interior
This bus has vibrant lighting effects, iPod/phone connectivity, a CD Player, TV and DVD, and of course beverage coolers.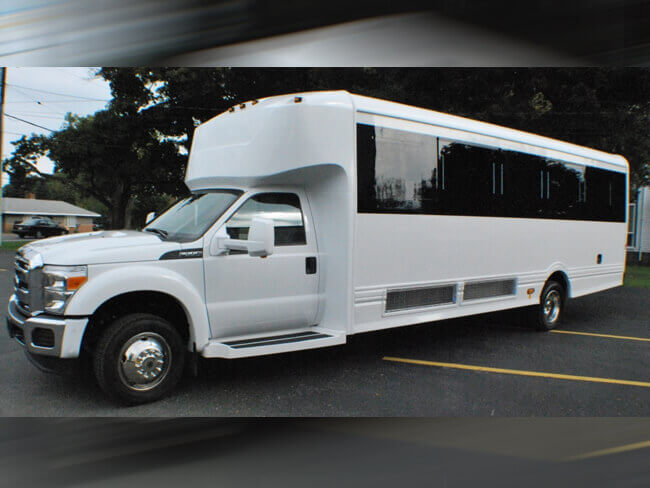 Limo Bus
Our gorgeous 30 passenger party bus is going to blow you away!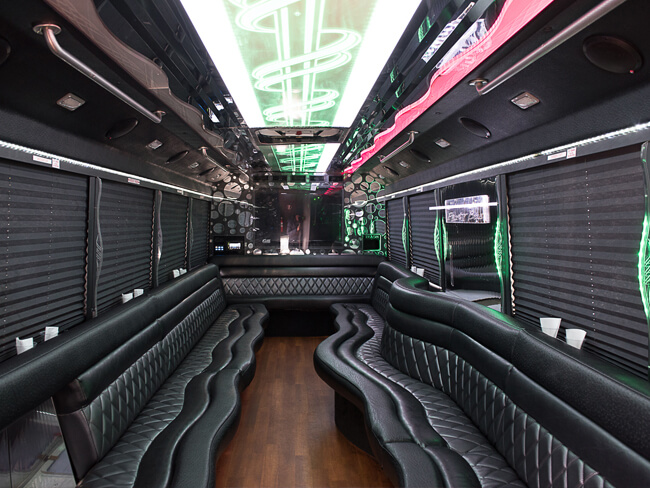 30 Passengers
Color-changing lights adorn the interior and set a fun party mood!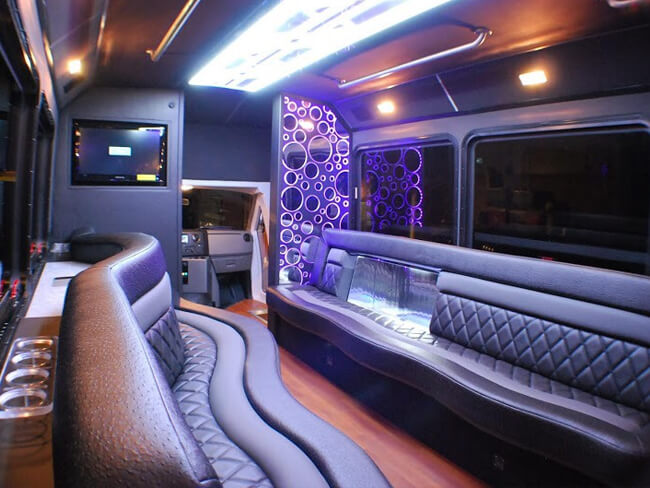 Vibrant Lights
The sleek interior also has TVs, a DVD player, and a beverage cooler.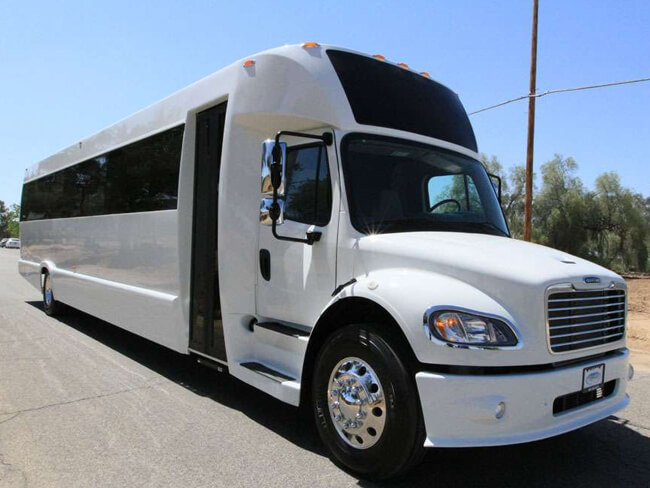 Limo Bus
Next up in size is this beautiful 40 passenger limo bus. You'll be blown away when you step on board!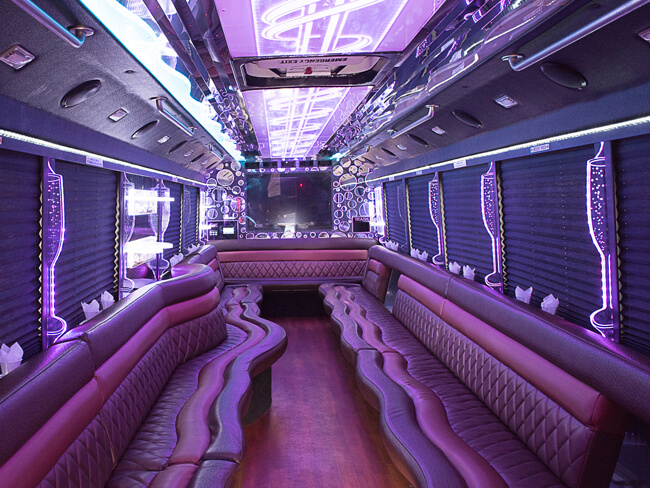 40 Passengers
This party bus has stunning color-changing LED and laser lighting effects and a premium stereo system.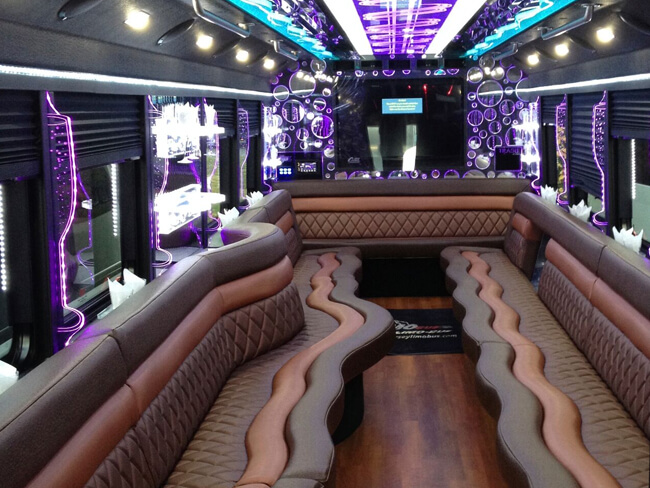 Leather Seats
You'll be able to enjoy your favorite movies and music on board this bus with it's TV/DVD/CD capabilities.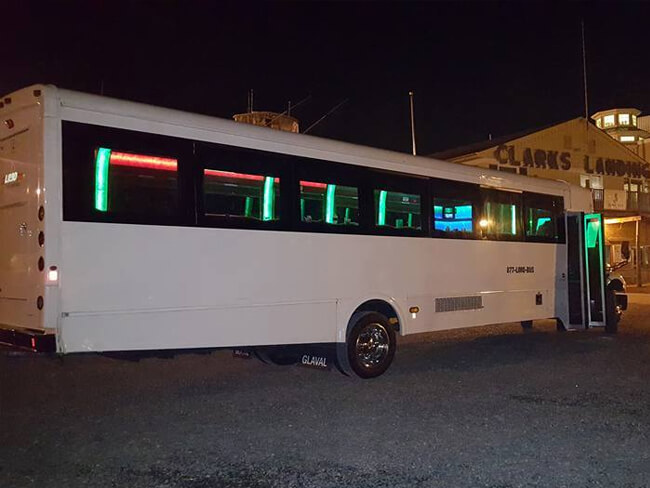 Trolley Bus
If you want something unique, check out our beautiful Trolley bus for up to 40 passengers!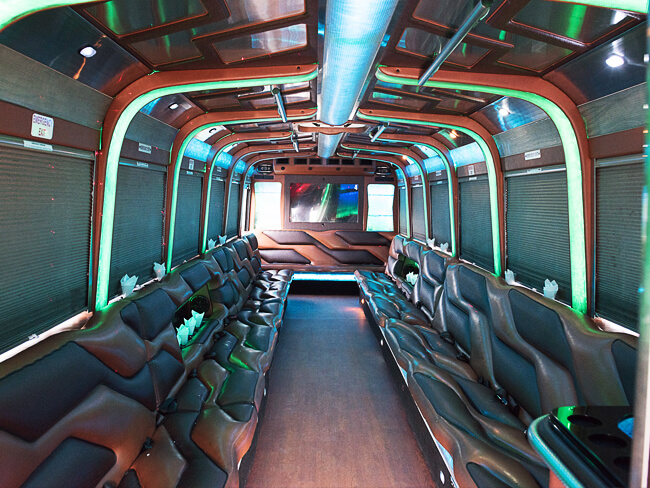 40 Passengers
This bus has an eye-catching interior with plush limo-style leather seats for up to 40 guests.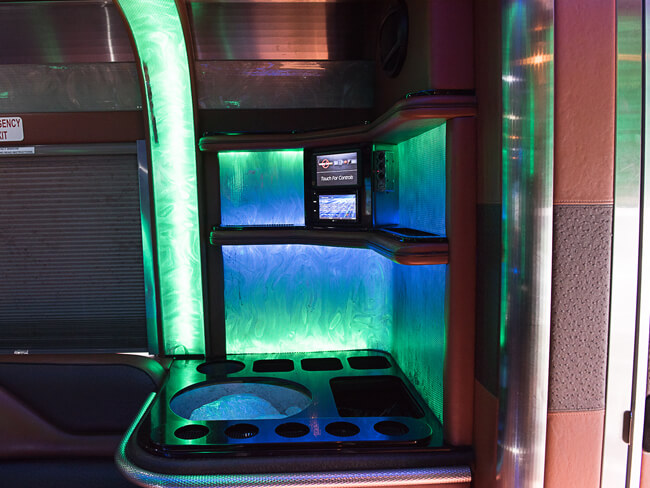 Beverage bar
You'll also find ample room for drinks! This trolley has a cooler and we'll make sure it's stocked with ice!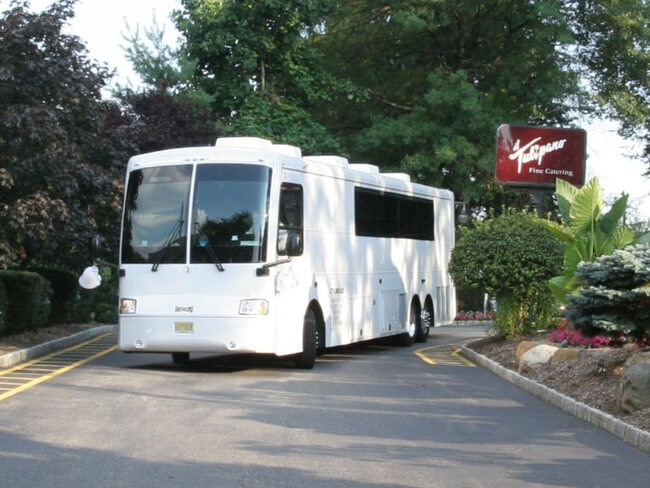 Limo Bus
Our biggest party bus is our posh 50 passenger party bus. This bus is truly beautiful.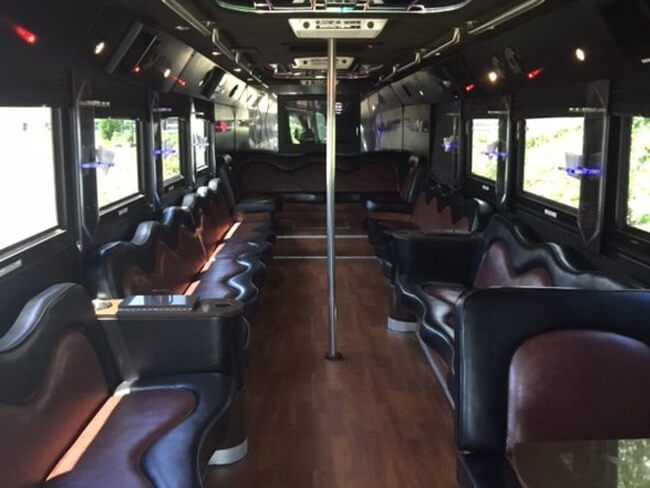 50 Passengers
Inside this bus is custom leather seats, beautiful hardwood floors, and even a dance pole.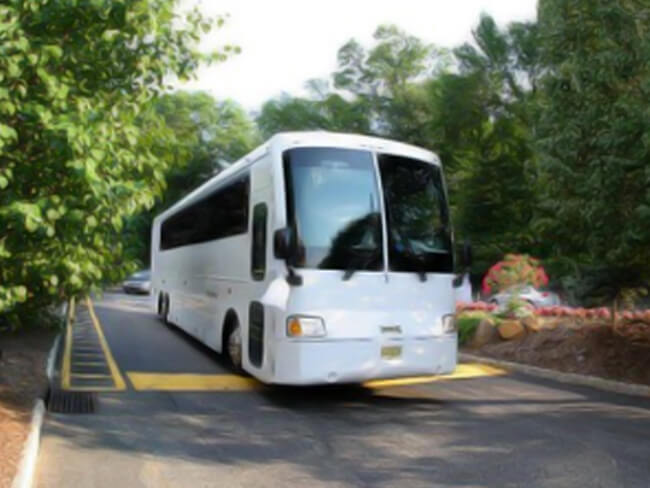 Wood Floors
When you need a bus to transport your largest groups, this is the limo bus for you!